AR-15 Gas Blocks:
---
Update: November 28 2010. It's getting hard to keep up with ever changing links from manufacturers and stores. To simplify the process rather than directing visitors to the exact product link I am changing the landing pages to be brand specific rather than part number specific.
The gas block is one of the major components that make up the gas system on which the rifle operates. Without a gas block the AR15 will not cycle. There was a time one there was only one gas block option, that option was the front sight gas block (FSGB). Today its a different world. There's adjustable gas blocks, low profile gas blocks, railed gas blocks and folding front site gas blocks. The gas blocks are manufactured from aluminum or steel. Steel is preferred for AR15 rifles that will see high round counts.
Note: If you are removing a standard A2 style front sight gas block the pins that fasten it to the barrel must be removed and replaced in a specific direction. Brownells makes a special tool to make this easy and to prevent you from damaging the front site gas block. This tool is called AR-15 Front Sight Bench Block
. See the tool below and click the image to see more information at Brownells.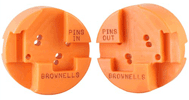 ---
Adjustable gas block reduces gas flow to ensure reliable function during single-shot operation or when using sound suppression devices. Helps reduce felt recoil and minimize carbon buildup on the bolt carrier and inside the receiver for less frequent cleaning without compromising reliability. Three-position selector drum locks into position and is easily adjusted with the included wrench. Suppressed position reduces excess back pressure to safe levels when using noise limiting devices. Unsuppressed position allows normal weapon operation. Off position enables single-shot operation, preventing spent cartridge ejection while providing a reduced weapon sound signature. Replaces factory gas block, and clamps securely around the barrel with two steel Allen head screws. Gunsmith installation recommended.

---

SGAS-A4L-00BT-00

Troy Industries offers a nice low profile set screw mount gas block.

---
JP Enterprises has a few gas blocks to offer AR15 shooters.
Stainless steel adjustable low profile gas block. Rail-free design allows installation under handguards. Bore .750 View the installation instructions here.

Stainless steel A2/M4 front sight assembly replaces existing pin-on assemblies and provides a gas adjustment. May also be used as front sight only to extend the sight radius of any existing carbine or rifle.

JP Adjustable Gas System for AR type rifles. Picatinny rail design allows installation of quick-detach accessories such as front sights, lights and lasers. These gas blocks are available in various bores and materials.

---
PRI has probably the widest range of low profile gas blocks available. The have adjustable, fixed and bores to .936
The AR15/M16 Steel gas block with ad us table gas porting. This is the same design as the original low profile gas blocks but the addition of some adjustments. The gas block offered in the .750 diameter.

These are available in various bores and materials.

This Barrel mounted gas block has a 2 1/2″ top rail same plain as the receiver. The rail is constructed of light wait hard coat aluminum. This gas block weights 2.5oz. Gas block fits over a .750 diameter barrel. Block locks into place with 2 crossbolts the same as our original gas block front sight.

PRI Flip Up Front Sight w/ .750″ Crossbolt Design FUFS-B Fits Barrels .750″ dia. M16 M4 and AR15 Eliminates the shadow cast on optical sights mounted on the M16 Flattop receiver Lightweight aluminum top post Low reflection matte black corrosion resistant coatings The sight post locks in the up and the down position Solid 4140 cast steel base with provision for the gas tube an integral part of the unit Accepts any standard retrofit M16 front sight post.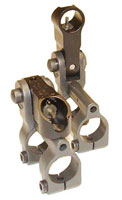 ---
Yankee Hill offers low profile gas blocks similar to the PRI and Troy models. Additional they have a unit that's similar to an A2 front sight with the sight portion removed. YHM most popular models though are the railed gas blocks which are available with 1-4 rails. Some models include provisions for a sling and feature a bayonet lug.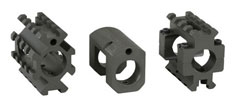 YHM also manufactures the unique Specter Gas Block. The design of this gas block allows the user to mount forearms that extend beyond the standard gas return system. Providing the inside diameter of the forearm is 1-5/8" or greater. It allows the mounting of our forearms without the removal of your pinned or welded muzzle accessory. This gas block consists of a simple, durable, two-piece design that is mounted by the use of four socket head cap screws. Made from high quality steel and finished with a Mil. Spec. phosphate coating.

---
This is an exact replica of the gas manifold used on the Mk 12 SOCOM rifles. Fits rifles with a 3/4" (.75)

---
Machined, aircraft-grade, aluminum, gas block with picatinny rails attaches easily and lets you mount accessories to three sides. Grit blasted for a durable matte finish and hard-coat anodized as per mil spec 8625.

---
MI offers a low profile and an upper height machined to the height of an A4 upper receiver.

---
Brownells offers two variations of AR15 gas blocks. The first is typical low profile, the second is a modular approach that allows for adding and removing picatinny rails and a bayonet lug.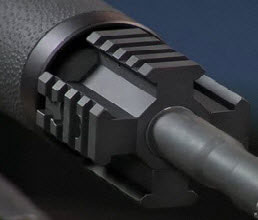 ---
DPMS produces a nice quad rail gas block with bores to suit most common AR15 barrel outside diameters.

---
Manufacturer information not located.

---
Low Profile Provides Clearance For Optics & Free-Float Forend Tubes. Machined aluminum gas block properly directs gas and won't interfere with optics, accessories, or free-float forend tubes. Installs easily with hex screws.

---
VLTOR has some nicely profiled gas blocks available in various bores. With the various rail systems currently being offered for the AR15/M16/M4 weapon system, the Vltor Low-Profile Gas Block is small enough to fit inside most rail systems. These gas blocks are an excellent replacement for the archaic fixed sight tower gas block, which has been the standard since the early 1960's.
The Vltor Low-Profile Gas Block covers one-inch of the barrel's surface and is made to the tightest tolerance. These gas blocks are offered in two materials, 4140 carbon steel and 17-4PH stainless steel. The 4140 gas blocks are manganese phosphate (black finish) to match barrels with similar finish. The stainless steel gas blocks are blasted to give a matte gray finish.
All current models are made to fit barrels that feature a .750 or 3/4-inch gas block mounting surface. In 2007, Vltor will offer a gas block that will mount to a .625 or .5/8-inch diameter barrel.
---