DUECK DEFENSE – Rapid Transition Sight
Check it out at Brownells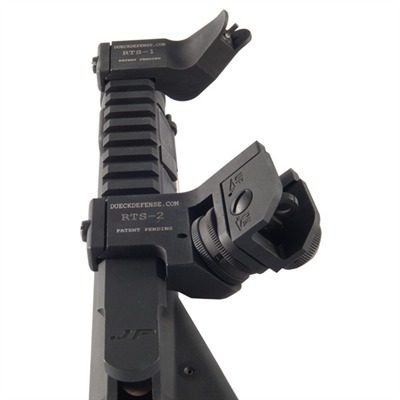 Top 3-Gun shooter and IPSC Grand Master: Barry Dueck, has designed the RTS sight system which provides the competitive or tactical shooter with the quickest transition possible from optical to iron sights, greatly increasing efficiencies when dealing with near and far targets.
"I realized that when shooting close targets on the move I was more effective with standard M4/M16 iron sights than when using anything else. Being that I still performed better at longer ranges with an optical sight, I came up with a sight design that allowed for both. It also solved the problem of trying to co-witness sights because you now have two independent sighting systems that are always ready."
~ Barry Dueck
Mounts At 45° Offset From Primary Optic For Instant Transition To Backup Sights
Rugged machined aluminum backup sights mount a on Picatinny-railed rifle at a 45° offset angle to enable instant transition from primary optic simply by tilting the rifle. Ambidextrous design can be mounted to on the left or right side of the receiver. Eliminates the need to co-witness backup sights through your optic. Provides the same bore height and sight picture as standard USGI A2 sights. Rear sight has A2 flip-up long- and short-range apertures, and is adjustable for windage and elevation in ½ MOA clicks. Mount rear sight to receiver rail and front sight to handguard top rail. Locking bar and cross-bolt attachment system clamps securely to MIL-STD 1913 Picatinny rails and sits only .20″ above the rail, so there's no interference with the main sighting system. No special tools needed; installs using a slot tip screwdriver. Compatible with military IR laser/illuminators, front sight base designed to clear beam path.